AP Biology Grid-Ins Practice Question 1
Question: 1
An experiment was conducted to observe the light-absorbing properties of chlorophylls and carotenoids using a spectrophotometer. The pigments were first extracted and dissolved in a solution. They were then illuminated with pure light of different wavelengths to detect which wavelengths were absorbed by the solution. The results are presented in the absorption spectrum below.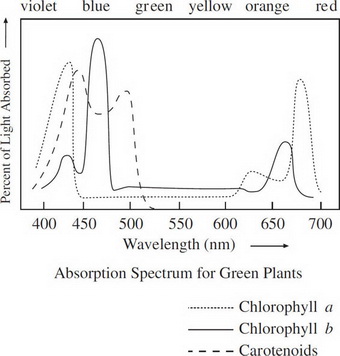 At approximately what wavelength does chlorophyll a maximally absorb light?
Correct Answer: 425
Explanation:
425 If you look at the absorption spectrum, you'll see that chlorophyll a has two peaks, one at 425 nm and one at 680 nm. Chlorophyll a maximally absorbs light at approximately 425 nm.