AP Calculus BC Question 63: Answer and Explanation
Test Information
Use your browser's back button to return to your test results.
Question: 63
8. The sum of the infinite geometric series 2 -

+…is
A. -6
B. -3
C.
D.
Correct Answer: D
Explanation:
D This is the geometric series

. The sum of an infinite series of the form

arn is S =

. Here, the sum is S =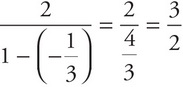 .