AP Macroeconomics Question 424: Answer and Explanation
Test Information
Use your browser's back button to return to your test results.
Question: 424
11.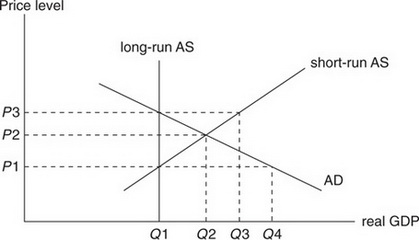 The figure above shows aggregate demand (AD) and supply (AS) for the economy. Assuming that aggregate demand remains constant, which of the following best predicts the short-run price level, the long-run price level, and the long-run level of output?
SHORT-RUN PRICE LEVEL LONG-RUN PRICE LEVEL LONG-RUN OUTPUT
A. P2 P1 Q4
B. P2 P2 Q1
C. P2 P3 Q1
D. P1 P2 Q3
E. P3 P2 Q2
Correct Answer: C
Explanation:
C-Short-run equilibrium is where short-run AS intersects AD, in this case, above full employment. In the long run, wages increase, shifting SRAS leftward until settling at full employment Q1 and higher price P3.