AP Physics 1 Question 180: Answer and Explanation
Test Information
Use your browser's back button to return to your test results.
Question: 180
10.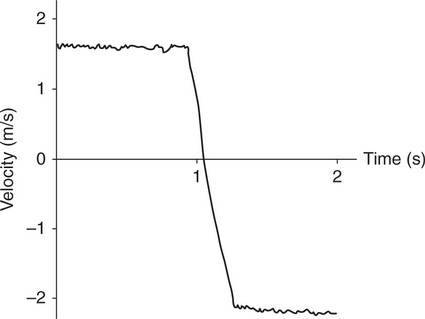 The velocity-time graph shown here represents the motion of a 500 g cart that initially moved to the right along a track. It collided with a wall at approximately time (t) = 1.0 s. Which of the following is the best estimate of the impulse experienced by the cart in this collision?
A. 3.6 N·s
B. 0.5 N·s
C. 0.2 N·s
D. 1.8 N·s
Correct Answer: D
Explanation:
D-Impulse is change in momentum. The initial momentum was something like (0.5 kg)(1.6 m/s) = 0.8 N·s to the right. The cart came to rest, changing its momentum by 0.8 N·s, then sped back up, again changing momentum by (0.5 kg)(2 m/s) = 1.0 N·s. Thus, the total momentum change is about 1.8 N·s.