AP Physics 1 Question 329: Answer and Explanation
Test Information
Use your browser's back button to return to your test results.
Question: 329
7. Question below refers to the following figure: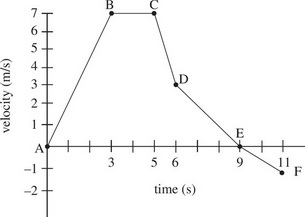 Rank the change in momentum for each segment from least (most negative) to greatest (most positive). Assume that the mass of the object remains constant.
A. BC, EF, DE, AB, CD
B. AB, CD, DE, EF, BC
C. BC, EF, DE, CD, AB
D. CD, DE, EF, BC, AB
Correct Answer: D
Explanation:
D
Mass is not changing, so you need to consider only the changes in velocity. For each segment in order, the change in velocity is +7 m/s, 0 m/s, -4 m/s, -3 m/s, and -2 m/s. The question does not specify magnitude only, so all negatives will come before the others.